Passport now has the capability to communicate data from Passport back to your HRIS delivering reports directly to your SFTP. This is currently available through any of our four existing reports available for scheduling (Read more here: How to Schedule Reports).
The reports delivered to SFTP will show up in a Reports folder and will stay there until your organization decides to delete. This will allow you to pull down and import whichever columns you choose and map to directly to your HRIS System.
If you have an existing SFTP connection, you can request scheduled reports to the SFTP.
Option 1: Set it and Forget it
Begin by reaching out to Client Care Support to assist you in setting up reports directly to your SFTP to set up a standard set of reports. Reports can begin as soon as the following day. These reports can arrive on specific days of the week or daily.
Examples of "set it and forget it" reports -
Exclusion Alerts in "Needs Review" Status updated within 1 day
Licenses and Certificates expiring within 30 days
All Licenses and Certificates with expiration dates
Option 2: Client can control
If you are looking to have more control over which reports are scheduled or change them without the assistance of Client Care, one user from your organization can be designated to set up scheduled reports. This will allow you to add or change whenever you'd like.
To begin, reach out to Client Care and request a user to be set up with SFTP controls. To schedule an SFTP report, you will begin by following instructions to schedule a report within the article How to Schedule Reports.
For example, you may choose to schedule a report of all primary source verified license data back to your HRIS System. You will start with the Monitor Tab Export, filter to Severity - License All. You will scroll to the bottom right-hand corner and select "Export" and "Schedule SFTP". Designate a chosen prefix on your file so you can easily distinguish between reports. Regardless of choosing option 1 or 2, the file name will include the chosen prefix, type of report, user who set up the report, and a time/date stamp. The file format will be a .csv (comma separated values) spreadsheet.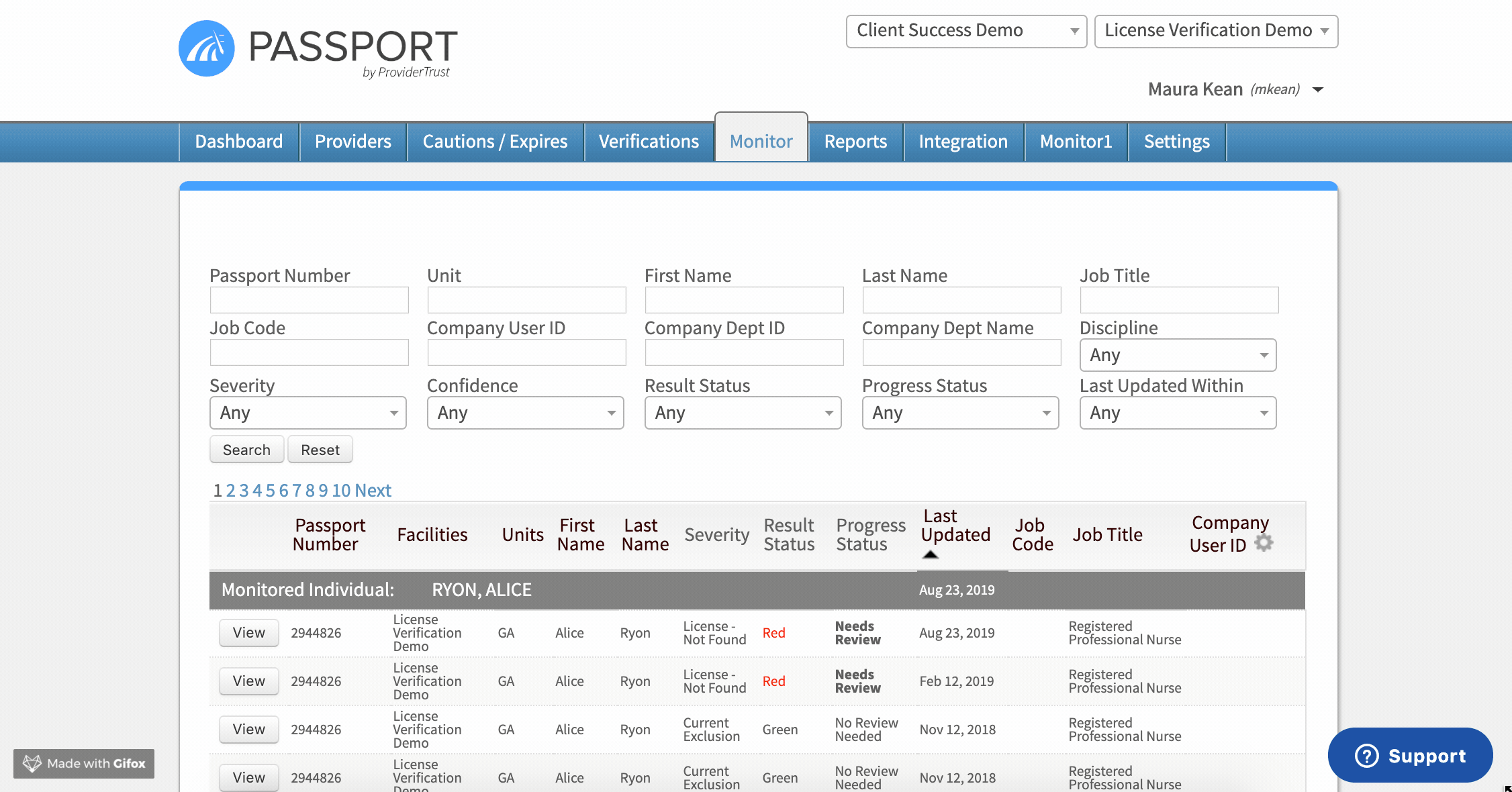 You may consider using the Cautions/Expires to push all of your credential data updated in Passport back to the SFTP or create a flag of missing credentials in your HRIS. All reports are customizable based on the filters.
Once you press Save, you will be taken to your Settings to review any other scheduled reports both to SFTP and your email. you can select Send Report to SFTP Now to test what your report will look like upon arriving. You may also delete or edit any other reports from this page as well.