Within Passport, you have the ability to directly communicate data back to a Human Resources Information System (HRIS) by delivering reports to your Secure File Transfer Protocol (SFTP). In this article, we will outline how you can schedule your own SFTP reports.

If you haven't yet spoken with a Client Success Team member about SFTPs for your specific business needs, please reach out to our support team today!

SFTP Report Considerations
Every SFTP file name will include:
your designated prefix
the type of report
the user who set up the report
a time/date stamp.
The file format will be a .csv (comma-separated values) spreadsheet.
The reports delivered to SFTP will show up in a "Reports" folder and will stay there until your organization decides to delete them. This gives you the ability to select and import whatever files you choose and map them directly to your HRIS.
How to set up your own SFTP reports
In order to set up your reports, the Client Success (CS) team must designate one user to own the report scheduling process. This user will have the ability to add or change report standards whenever they would like.
To begin, reach out to the CS team to designate your user. Then, to schedule any SFTP reports, follow the instructions in this article: How to Schedule Reports. When scheduling an SFTP report, you will select "Schedule SFTP" instead of "Schedule Email" to ensure report is delivered to the SFTP.
For example, you may choose to use the table on the "Monitor" tab to schedule a report of all primary source verified licenses. You will start by navigating to the "Monitor" tab. From here, filter your table by "Severity - License All." Scroll to the bottom of the table and select the "Export" button. In the pop-up, be sure to check the box for "Schedule SFTP." To ensure your ease of distinguishing between reports, designate a prefix for your file (For example, you may want to differentiate between a "Monitor" tab export that is filtered to all licenses and a second "Monitor" tab export that is filtered to all matched exclusions. For the first report, you might use the prefix "PrimarySourceLicenses", for the second, "MatchedExclusions").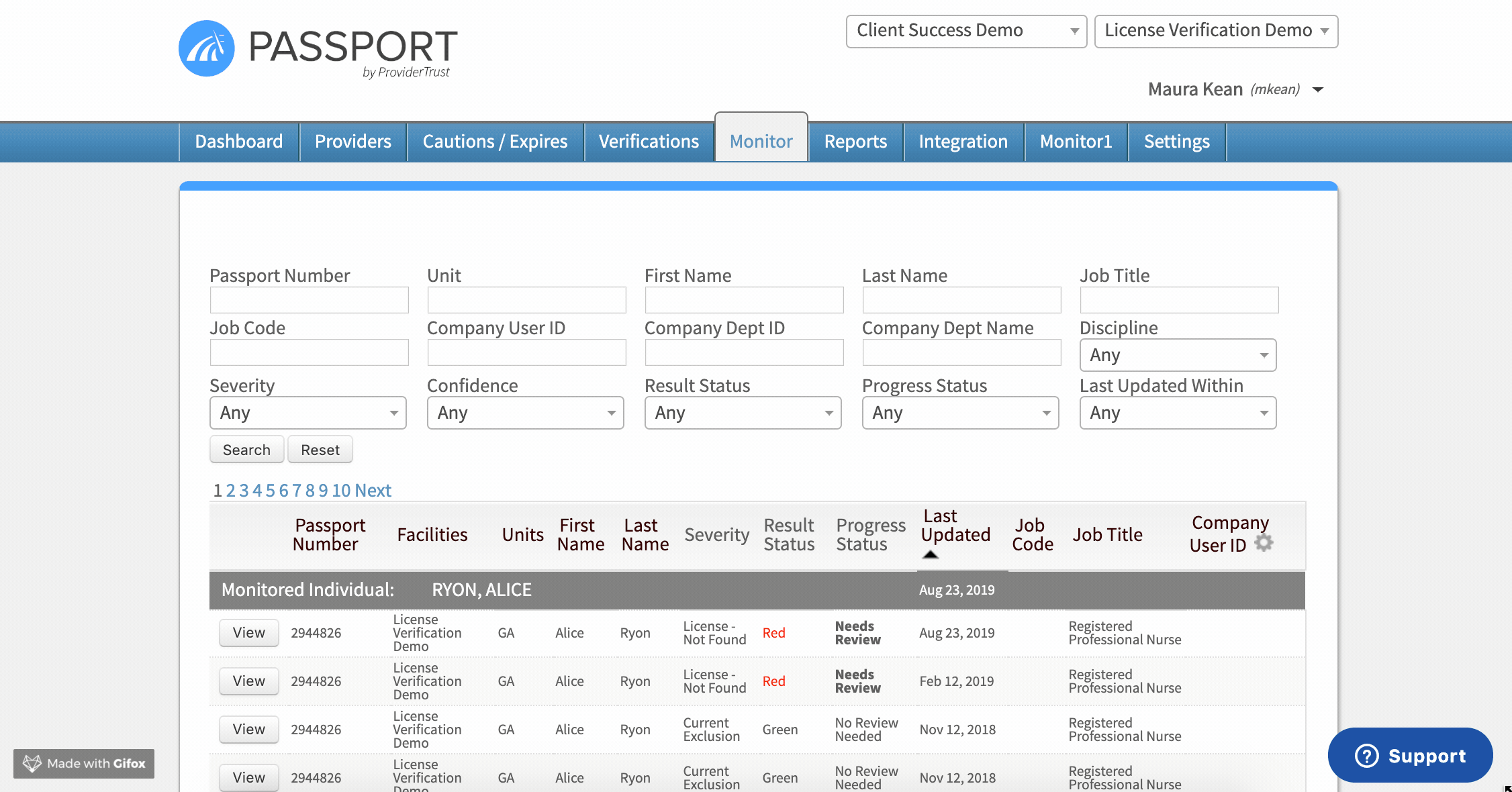 You may also consider using the table on the "Cautions/Expires" tab to schedule reports for missing or meaningful credential data changes. All reports are customizable based on the filters above the table.
Once you save the report, you will be taken to your "Settings" to review all of your scheduled reports, both to SFTP and email. From here, you can delete or edit your reports. You can also test your reports by selecting the "Send Report to SFTP Now" button.