It is a common practice among our clients to focus on a specific group of alerts at one time for efficiency. For example, maybe you only want to focus on the license alerts or alerts in a specific progress status such as In Progress.

To do this, you will log in to Passport at https://passport.providertrust.com/ by entering your login credentials.

From here, you will toggle to "Monitor" or "Network Monitor" from the navigation bar.

When you access the monitor tab, there are searchable filters at the top of the page which will allow you to filter to specific types of alerts.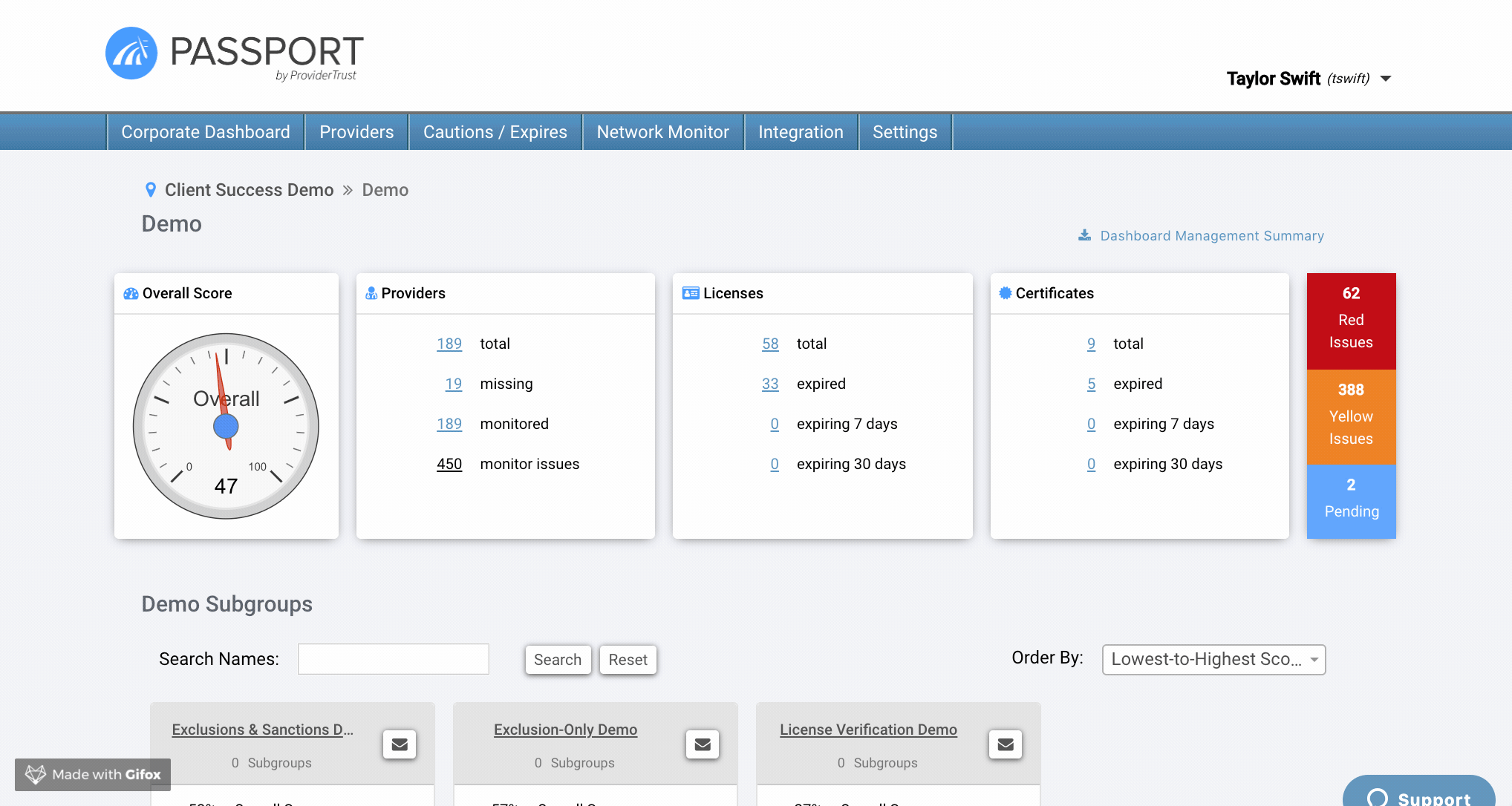 Severity will allow you to choose a specific type of alert - for example, Exclusions or License - Expired.
Confidence allows you to filter by the certainty we feel that the alert or license is a match to your provider based on the information available from the source.
Result Status will allow you to choose a specific color alert. Red, Yellow, Red/Yellow or Green. Typically, you'll select Red, Yellow or Red/Yellow to review monitoring issues.
Green alerts represent possible exclusion matches we've been able to determine as no match, no match to a Social Security Death Master alert or a verified license in good standing.

Progress Status will allow you to filter to a specific progress status. For example, filter to Needs Review to see only the newly reported alerts, In Progress to see the alerts that are currently being addressed or Resolved to review alerts at final resolution. As these progress statuses are customizable, this may not represent the complete list used by your organization.

Last Updated Within will allow you to view alerts during a specific time frame such as within 1, 7, 14, 30, 60, 90, or 120 days. This can refer to the when the monitor alert was published or the last note or progress update from a Passport user.

Once you've determined the alerts you wish to filter to, you press "Search".
"Export Selection" will allow you to pull a report of the alerts that meet your search criteria. In addition, the report will include the the name of the last user who updated the status and their notes. This provides great visibility into the last action taken to address each alert.
You can also schedule reports to your inbox as well. To read more about scheduled alerts, review the following support article: How to Schedule Reports