When your healthcare credentials are primary source verified, the verification uses the license type, issuer, and number to search for your credential at the primary source. The verification will capture:
Credential Type
Credential Issuer
Credential Number
Credential Status
Issue Date*
Expiration Date
First and Last Name
*Note: The issue date will not be verified, but it will be captured from the source in the license details and in the provided screenshot.
When there are discrepancies at the primary source that require the attention of your team, you will receive a red or yellow monitoring alert based on the severity. There can be multiple issues providers Name Does Not Match the Primary Source

What does this mean?
When verifying the license, the name listed on the primary source does not match the first and/or last name provided for your employee or provider.

Why does this matter if it's my provider under a different name?
In order to remain in compliance, most license boards require a correct legal name in order to stay in compliance. If a provider has done something to warrant disciplinary action or exclusion under a different name listed on their license, there is a risk these items may not be found as ProviderTrust searches under the correct, legal name entered into the Passport System as well as any other former last names included with your provider data.

What to do:
Be sure to confirm your organization's policy regarding names on licenses and that the provider's name you have entered into your system is the correct, legal name. It is important for exclusion and sanction monitoring that we are searching by the correct, legal name.
If the name you have is indeed the legal name, this could mean either the license number you have entered needs to be corrected (if the name is very different or if both first and last name differ, this is usually the case) or the provider may need to update the board with their legal name.
Once you have decided how to proceed, you may make notes and update the progress status according to your workflow.



License Returns as "Not Found"

What does this mean?
Based on the license data provided (type, issuer, and number), we cannot locate the credential at the primary source.

What to do:
Confirm the type of license you've entered. (for example, Social Worker vs Licensed Independent Social Worker - different licenses often represent different levels of certification, so it's important to review the exact license type.
Confirm the issuer of the license. (Did you enter Washington and it's actually from Idaho?)
Confirm the license number. Was it keyed incorrectly?

Finally, once you confirm what update is required, edit the incorrect information and press "Save." For more information on editing a license number, refer to the following article: How Do I Delete or Edit a License or Certification?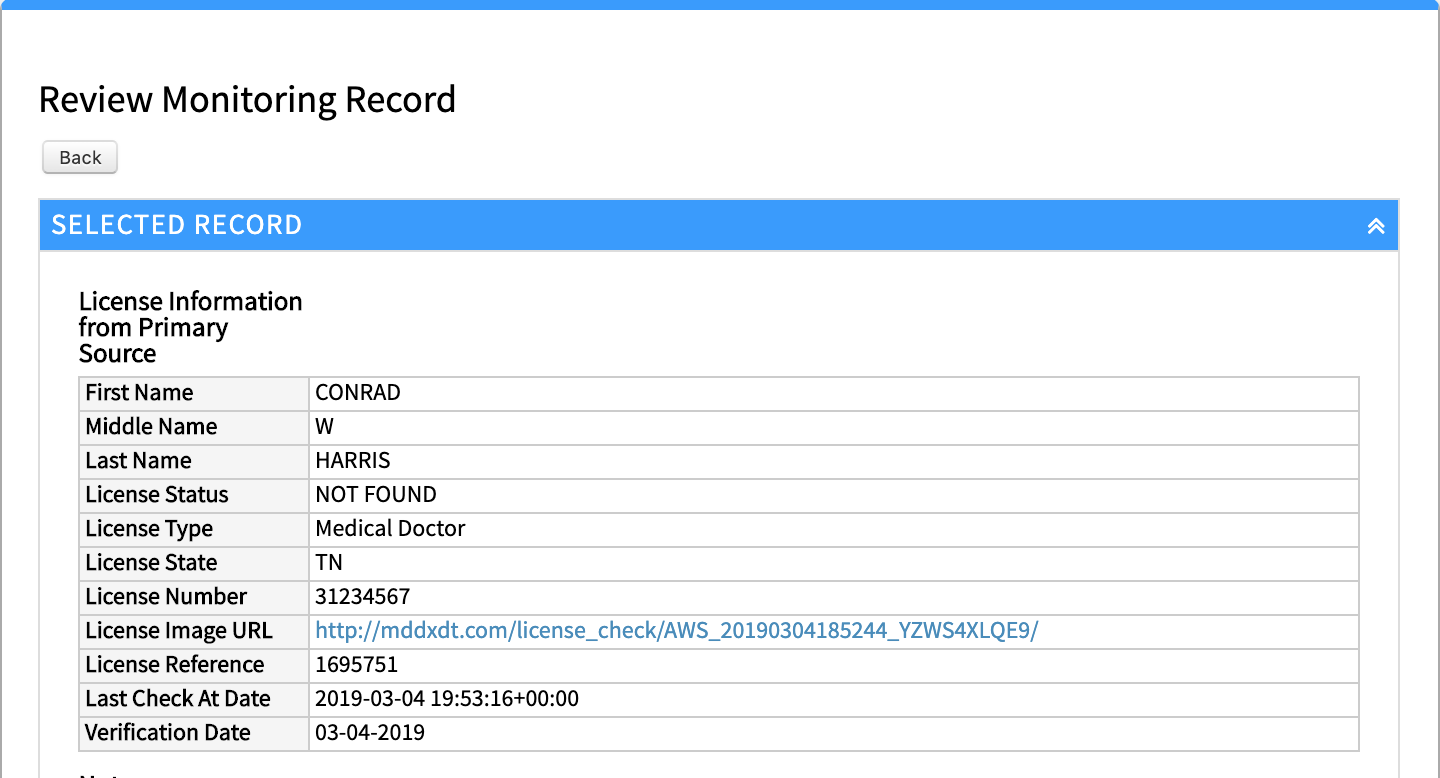 License Status is Impaired
If the license status returns with an impaired status (inactive, expired, revoked, suspended, etc), you will receive a monitor alert.
Generally, an employee cannot work on a suspended or revoked license. A license that is probated will have specific working terms and you will need to confirm that the employee is complying with those terms.
It is also possible for the license board to list the status as active despite an expired expiration date.
It will be important to adhere to your organization's compliance plan and how you handle impaired license issues.
If this license is no longer required, you may delete the license to no longer receive license alerts for this license. You can refer to How Do I Delete or Edit a License or Certification?
Previously monitored license verification information will always be available via the Historical License Verification Report.
| | | |
| --- | --- | --- |
| License Alert Severity/Type | Alert Color | Notes |
| License - Active | Green and Yellow | License Active alerts could be returned as Yellow when there is a Name Mismatch. |
| License - Board Pending | Yellow | Occurs when a provider's license application is pending, or they are pending exam, an audit, etc. |
| License - Expired | Red | License has expired. |
| License - Inactive | Red | License is inactive. |
| License - More Info Needed | Red | Our monitoring team is contacting the board, calling the CNA registry, etc. |
| License - Not Found | Red | License was not found on source. |
| License - Probation | Red | License is probated. |
| License - Revoked | Red | License is revoked. |
| License - Restricted | Red | License is restricted. |
| License - Surrendered | Red | License is surrendered. |
| License - Suspended | Red | License is suspended. |
License alerts can be complex and there may be multiple issues occurring at one time. If you have any questions, please reach out to the Client Care support team who will be happy to assist you with navigating licensure issues.