When your organization has a requirement policy in Passport, we create what we call
"requirement rules" that identify the unique credential requirements for your employees based on their job title or code. These specific rules trigger missing notifications in Passport which prompt you to enter their credentials to ensure your team has the proper credentials to fulfill their duties.
**Please Note: If you're unsure if your organization has contracted for a requirement policy, please contact support@providertrust.com
We understand that requirements will evolve and new positions may be created regularly for your organization. To best support you in this managing this process, we have created a simple Requirement Change Form to indicate any additions and updates you need to make in Passport. The form will prompt you to enter all required fields to efficiently make your required change with minimal back and forth between the client care support team.
Follow this link to find the form: Requirement Change Form
You can also access this form by:
1) Entering the following URL: https://passport-help.providertrust.com/hc/en-us

2) Click on "Submit a Request"

3) Select "Requirement Change" or "New Job Title/Code" based on your need.

4) Our system may generate helpful support articles depending on the subject of your message. Please feel free to review these or scroll down to complete the rest of the form.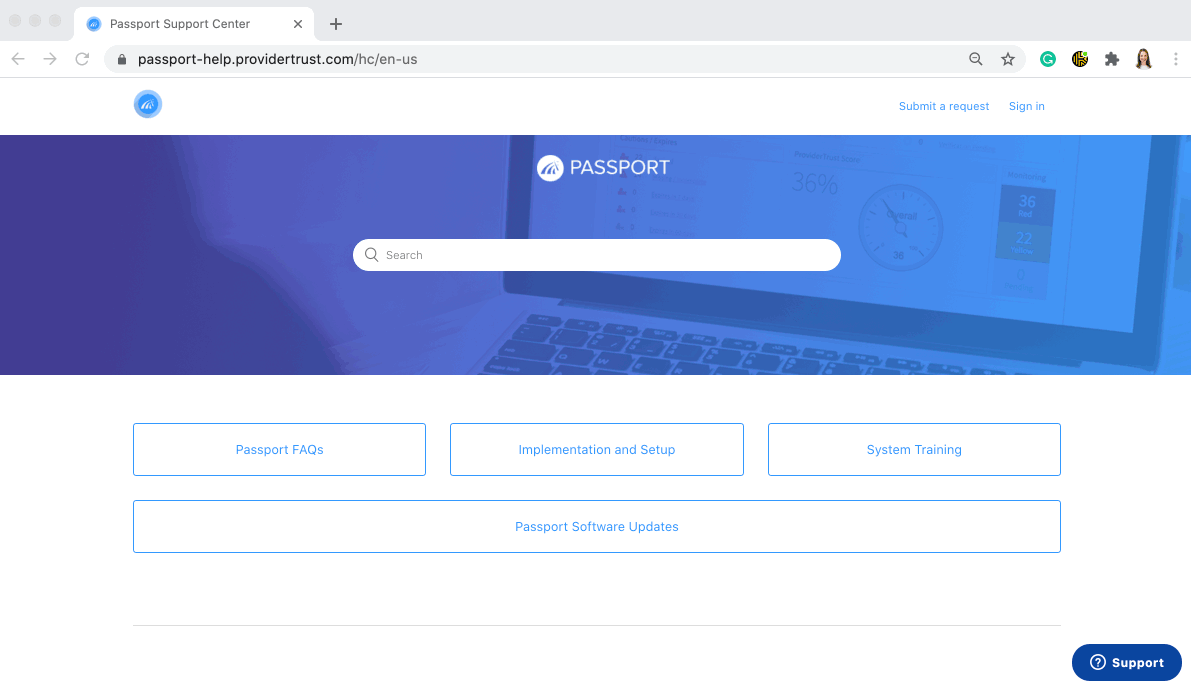 5) Once you have completed the form and click Submit, you will receive a confirmation pop-up in the upper right-hand corner, stating that your request was submitted successfully. Our team will then begin processing your request and will reach out with any questions or confirm the updates have been made.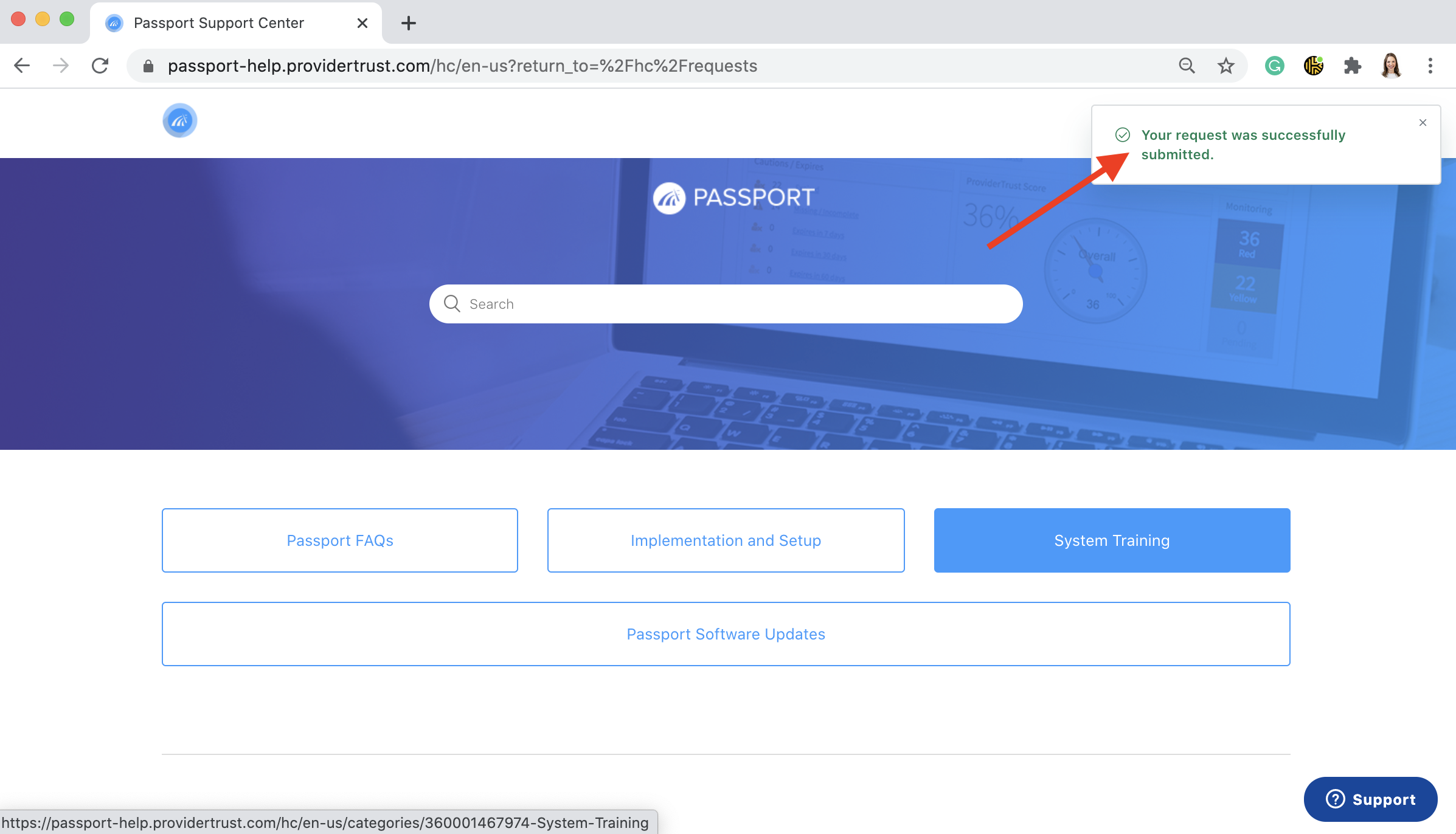 Let's review the information needed within this requirement change drop-down:
Data Field

Description

Your Email Address

Enter your work email address. You will receive an email notifying you that the request was received and a follow-up once complete.

Subject

Enter a short subject for your request.

Examples: "New Job Title: Float RN" or "Change to Job Code 1234"

Type of Update

New Job Title Mapped to Existing Rule: This means you have a new job title that matches the credential requirements of other job titles already in Passport.

Example:
You have a new job title "Float RN" which matches the credential requirements of providers with the job title "Registered Nurse" who require an RN license in Passport.


New Requirement Rule: This means you have a new job title with brand new requirements that do not match any other providers in the system.


Change Existing Requirement: This means you have a current credential requirement for job title(s) that needs to be changed.

Example:
You currently have a job title "RN Manager" which requires an RN license. You would like to change this credential requirement
to require an RN license OR LPN license and CPR.

Job Titles/Job Codes Affected

This is where you will enter the new or existing job title(s) or code(s) affected by this update.

Applies To

Please tell us where the credential requirements should be applied:

Entire organization: anyone within your organization who has this job title needs to have these requirements.
State: only individuals living in certain states need to have this requirement.
Facility: only providers in a specific facility(s) need this requirement.
Unit: Only providers in a specific unit(s) need this requirement.

Grace Period

This field should be left blank unless your organization requires your employee to have these credentials within a certain time frame of being hired.

Can be applied to specific credentials or all credentials for one role.

Example:
Must have RN license within 14 days of hire.

Credential Requirement

Please provide the specific credential type and issuer. Please be as specific as possible and include attachments of the credential, if available. It is possible that the credential may not exist in our system today. If that is the case, please allow a few extra business days to research and add to our system.

Example:
Radiologic Technician license issued by the ARRT

Medical Doctor or Doctor of Osteopathy license issued by state

Physical Therapist license from any state.

Description

A free text field if you would like to give us any additional context here. You may also include additional requirement requests within the description field ensuring you include all the required fields outlined in the form.

FAQs:
What if I have additional requirements to add?
If you have extra requirements, you can either submit multiple requests or include the details in the description field ensuring all required fields are answered.
What if I have a lot of additional requirements?
We have created a template that you can use to fill in all the required information within one request. The template is attached to the bottom of this article. Please reserve the template for more than five requested changes.