Please note: This lesson only applies to organizations with primary source license verification services in Passport. If you have not contracted services to primary source verify credentials, please continue to Lesson 5: Monitor Alerts
The Cautions / Expires tab will be your go-to section for information related to Missing, Expiring, Expired licenses, certificates, and documents. This will also be the place that you add Missing credential information.
This information can be previewed from your Passport Dashboard with more detail available by clicking "Cautions / Expires" from the blue Navigation bar.
An organization may choose to set up a requirement policy during their onboarding process, where Passport will prompt you to enter specific credentials based on what is required per their position, job title, role, etc. When an item is Missing, it means, we have not receive the credential information to monitor based on your organization's unique requirements. For most credentials, we will require the type of credential, the issuer, and expiration date. You will also have the option to upload a scanned copy of the credential.
If you oversee more than one facility or region and have a facility dashboard, your preview will be available at the top of the screen between to your ProviderTrust score and monitor alerts. Clicking on the numbers on the dashboard screen will generate reports of these items.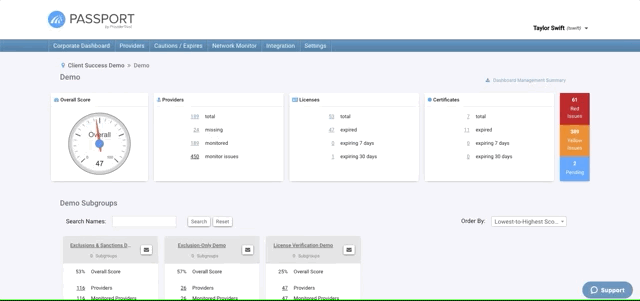 If you oversee one facility, your preview will be available in the bottom left side of the dashboard. Clicking on the links within this section will take you to further detail within the "Cautions / Expires" Section of Passport.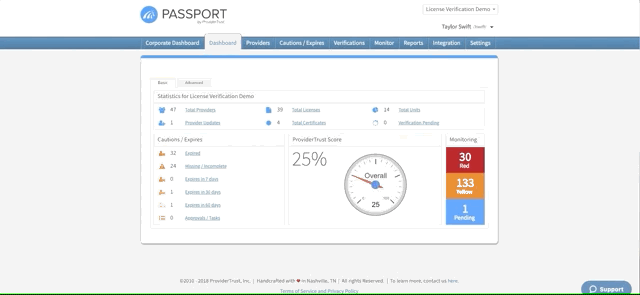 From "Cautions / Expires", you can use the search fields to filter to specific types of statuses - Missing, Expired, Expiring or other criteria such as job title, unit, etc.
You can customize the fields displayed on the Cautions Table. For more information on customizing visible columns, click to How to Customize Visible Fields in Providers, Cautions, Monitor Tabs
For many users, their first task will be to add missing items. From the Cautions / Expires section, toggle your search filter to Missing. By clicking View it will pull up more details regarding what credential is missing from Passport. Click Details to add the details for the license - ensure you have included the type, issuer, number and expiration date. You can optionally add a screenshot as well. Once you have added the license, you will see a yellow banner stating "This Caution was cleared as a result of your update." From there, you can continue to the next missing item until all have been added.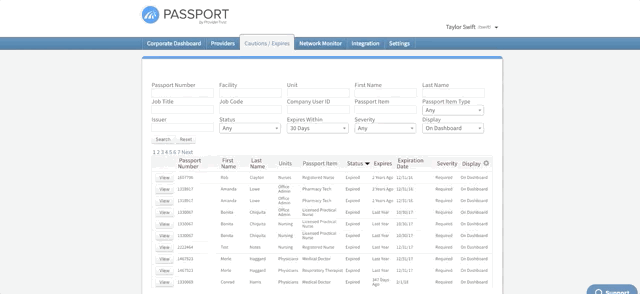 For more detailed instructions on adding missing licenses or certificates, step by step instructions are available here: How Do I Add A Missing License or Certificate?
Finally, you may also elect to have reports of missing, expiring or expired credentials arrive in your email inbox on a daily or weekly basis. To read more about scheduling reports from Passport, please read How to Schedule Reports
Next: Continue onto Lesson 5 for Monitor Alerts
Need additional support? Contact the Client Care team for access to one of our on-demand training webinars.