The providers tab is your digital filing cabinet for all employees in active monitoring. Begin by clicking on "Providers" from the Corporate or Facility Dashboard.
Once you reach the Provider Tab, you can search using the filters or click the headers on the column for sorting by first or last name. The displayed headers can also be customized by following these instructions: How To Customize Visible Fields in the Providers Tab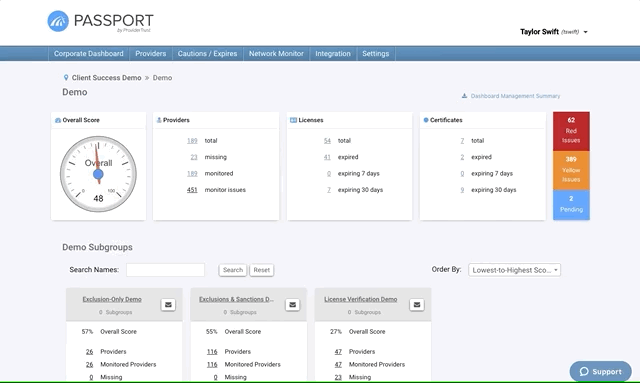 To view information a provider, click on "View" to the left of their name. From this view, you will see some additional tabs populate that you can toggle to view profile information, contact information, credentials, monitoring data. You can also add credential information from the provider tab, especially any credentials outside your organization's requirement policy. For more information on adding credentials, please read: How Do I Add A Non-Required Credential?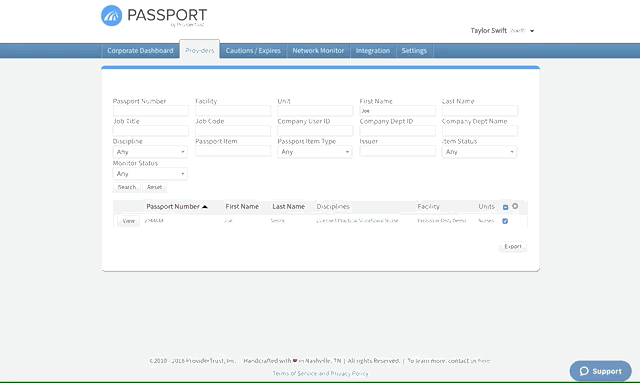 You can also use this section to schedule ongoing weekly/daily reports of your providers by clicking Export in the bottom righthand corner. For more information on scheduling reports, you can review: How to Schedule Reports
Next: Cautions / Expires Tab
Important note: if your organization is not using Passport for Primary Source License Verification, you may not have access to this portion of the software and you should continue to the lesson covering Monitor Alerts
Need additional support? Contact the Client Care team for access to one of our on-demand training webinars.