Lesson 6: Types of Monitor Alerts
For this lesson, we will provide an overview of monitor alerts that you may review. The types of alerts you receive will depend on the services contracted by your organization. There may be additional alerts not covered in this training. Please contact the Client Care support team with any specific questions you may have on your alerts.
For more information on additional level of monitoring services, please reach out to support@providertrust.com or 615-938-7878 ext 1 and we can connect you with the business development team.
Exclusions:
There are numerous reasons an individual or entity could be excluded. Federal and state agencies sanction, suspend, exclude or debar individuals and companies from federally funded benefit programs for a variety of reasons, including fraud, drug abuse, issues with licensure, healthcare related misdemeanors or felonies and defaulting on federally backed student loans. Forty-three states, along with the two federal government agencies, maintain exclusion lists that are updated on a regular basis.
If a person or entity is excluded, they cannot receive direct or indirect payment from federal benefit programs. Healthcare organizations cannot make payments to such vendor or person, without incurring a fine or penalty.A complete list of all exclusion sources can be found
here
. For more information on exclusions, please refer to the educational resources on the
ProviderTrust website
including E-Books, Blog Posts, Webinars, and Case Studies.
There are two types of Exclusion Alerts for your review in Passport. Matched Exclusion
(

Red

Result Status)
and Unable to Determine Exclusion
(

Yellow

Result Status)
.
Matched Exclusion (

Red

Result Status) means that we definitively matched your provider to an exclusion on a federal or state exclusion list. When we uncover these, Client Care both calls and emails your organization's designated parties due to time sensitivity.
Unable to Determine Exclusion (

Yellow

Result Status)means we have found an exclusion with the same name as your provider, however, we do not have enough information from the exclusion source to provide a definitive match or no match verification result. These are most common with older exclusion records and providers who have common names (think - John Anderson, Marcia Garcia, etc). Our verifiers perform advanced research in efforts to reach a definitive result such as using public records data, NPI information, working with credit bureau partners, address history, etc, and have not been able to reach a definitive result with the information available. As we do not believe these can be solved, there is no expectation for you to complete the research where we left off, simply to have a compliance plan in place to address the risk. A best practice among clients is having the provider sign an affidavit stating they have never been excluded and then keeping a record of the signed affidavit. For more information on an unable to determine exclusion and a copy of a sample affidavit, please visit What is An Unable to Determine Exclusion?
If your organization only has exclusion monitoring services, you can continue onto the next lesson on Reports
here
.
Sanctions:
Sanction monitoring searches over 2500 state and federal healthcare mass disciplinary action boards. A sanction represents a disciplinary action, board order, meeting minutes, found against credentialed employees. These can greatly range in severity from a minor fine or complaint to more serious issues related to patient abuse or license revocation. Most sanction alerts will arrive as a Yellow Result Status but those with more severe subjects will receive an elevated Red Result Status. Specifically, any sanction that mentions the words "revoked" or "abuse" will have a Red Result Status.
A sanction does not carry the same severity as an exclusion but can often serve as a precursor to more severe compliance issues such as license revocation or an exclusion.
License Alerts:
Ongoing license verification services provide primary source verification of the healthcare credentials added to the Passport system.
Every license alert will contain the information displayed from the board source:
License Type
License Issuer
First Name
Last Name
License Status
License Number
Expiration Date
Screenshot to view the board source
Verification Date
Below are examples of types of issues we may highlight:
Impaired Status - Expired, Suspended, Revoked, Inactive: These license alerts require immediate attention if the employee requires this license to do perform their duties and will appear with a

Red

Result Statuses.
Name Mismatch: The name on the license board does not match the name you provided for your employee. This is especially common for women after they forget to change their maiden name on the license board. Most license boards require the correct legal name to stay in compliance. It is also important to have the correct name in Passport to ensure we are monitoring the correct names for potential exclusions or sanctions. If neither the first or last name matches the license board, please review to ensure you have the correct license number. If a name match is the only issue with the license, it will appear with a

Yellow

Result Status.
License Not Found: These alerts all relate to issues with the information provided on your employee's credential information. Based on the data that was provided, we are unable to locate the credential on the primary source. This does not necessarily mean your provider is unlicensed, but you may need to correct the type, issuer, or license number for us to locate on the board. You must edit the license information which can be done directly from the alert by scrolling down and selecting Edit Client Provided License Data, edit the license information and save. Any Not Found license will appear with a

Red

Result Status.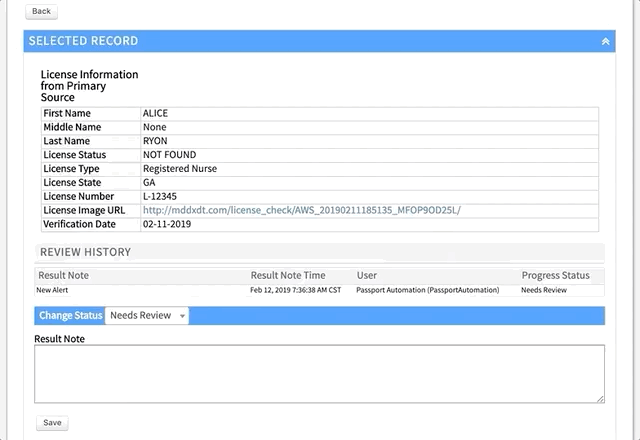 For more information on license alerts, please review to
What are the Different Types of License Alerts?
Social Security Death Master File:
Social Security Number verified against the Social Security Death Master File - which is a list of deceased individuals' social security numbers. When you receive a red, SSDMF alert, this means that the provider's social security number in the ProviderTrust system has been matched to someone who is deceased. Social Security Death Master alerts will
appear with a
Red

Result Status.
Though this sometimes can be a case of an employee using fraudulent data, in most cases, it's simply a result of a typo in a Social security number.
We recommend going back to the original information gathered from the provider to confirm what they put down as their social. 99% of the time, clients find a typo between what the provider listed, and how the HR Person keyed the information in your HR system.
If this happens to be the case,
it'll be important to follow two key steps
: Update the social in your HR system
and
the Passport system at the same time. From the alert, you can scroll to
Client Provided Profile Data
, click
Edit
, and update the social security number. If you do not see the social security number to edit, it is possible you do not have administrative access to perform this task. Please reach out to your system admin for assistance or call support at 615-938-7878 ext 1. Please ensure you correct the social in both places to avoid the risk of adding two records for the same provider.
As a reminder, do not communicate any social security numbers - including the last four - via email as traditional email is not a secure form of communication or within our security practices. If you have personal identifying information to share, please reach out to support first and we will provide a secure link for you to upload this information.
Next: Reports
Need additional support? Contact the Client Care team for access to one of our on-demand training webinars.