Depending on your organization and how many facilities you oversee, you may have a Corporate Dashboard which allows you to see multiple facilities or areas on one dashboard screen and drill down until you reach the facility level by selecting it's name when you scroll or search below the top key statistics. From the corporate dashboard, there are numerous reports available by clicking on the hyperlink numbers.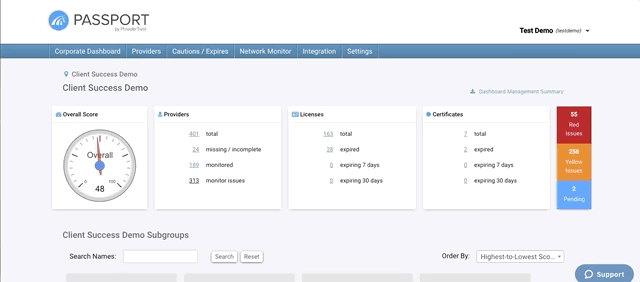 If you only oversee one facility, you will have the Facility Dashboard which represents the dashboard for one location.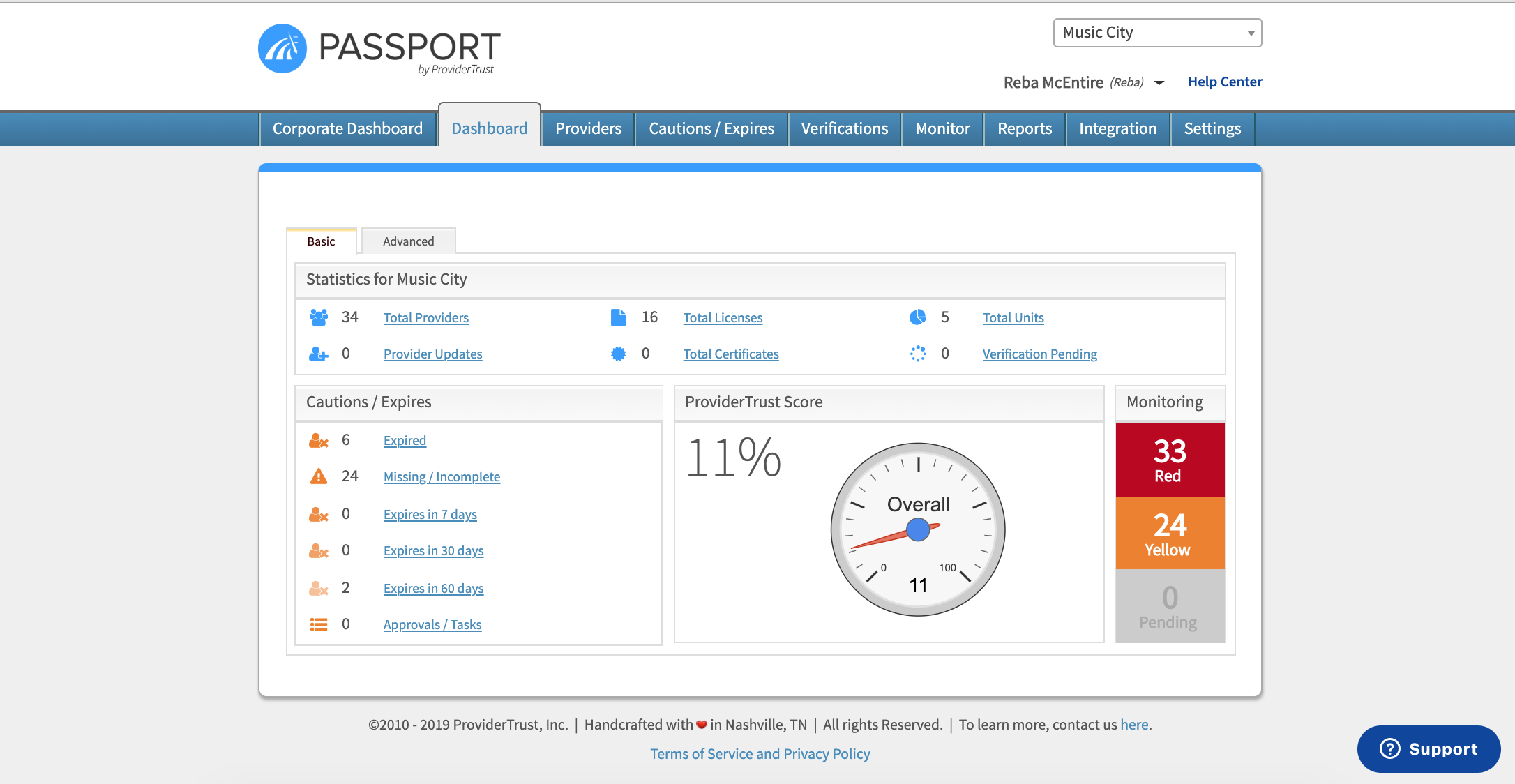 The dashboard highlights key statistics including:
Total Providers - Our term for monitored individuals. This may include any type of employee, clinician, contractor etc in Passport for monitoring.
Total Number License and Certificates and those that are expired or will be expiring in 7 or 30 days (if using License Verification monitoring service)
ProviderTrust Score which is an aggregated health score score based on the total number of providers versus the total number of monitor alerts on your dashboard (Red and Yellow) or missing items. The goal is 100%, client care support is here to coach your team with assistance you need to achieve 100%.
Monitor Alerts are red and yellow outstanding items that require your attention. Color is based around the urgency we recommend you view each alert. This does not include any alerts that you have resolved internally. We will review the monitor alerts in more detail on a later lesson.
Our full help center is available by clicking the Help Center button in the upper righthand corner near your name.

Client Care Support including in-app Chat is also available within the site via a Support widget in the bottom right side of each page. If the support team is not available for chat, you will be able to send a message and will receive a response via email. At any time, feel free to call at 615-938-7878 ext 1.
Support hours are Monday - Friday, 8:30am - 5pm CST.
Next: Provider Tab
Need additional support? Contact the Client Care team for access to one of our on-demand training webinars.